QUALITÄT
Während viele Marken heute die eigene Produktion aufgegeben haben oder ihre Produkte unter fragwürdigen Bedingungen im Ausland von Sublieferanten herstellen lassen, gehen wir einen ganz anderen Weg. Wir setzen auf moderne Technologie und produzieren die Komponenten unserer Produkte hier in Deutschland. Die Montage und abschließende Qualitätskontrolle finden in Niederaula, Hessen, statt.
Diese bewusste Entscheidung ermöglicht es uns, unseren Kunden erstklassige Qualität zu bieten. Gleichzeitig können wir unseren Mitarbeitern und Lieferanten optimale Arbeitsbedingungen gewährleisten. Damit stellen wir sicher, dass unsere Produkte nicht nur höchsten Standards entsprechen, sondern auch ethisch und nachhaltig hergestellt werden.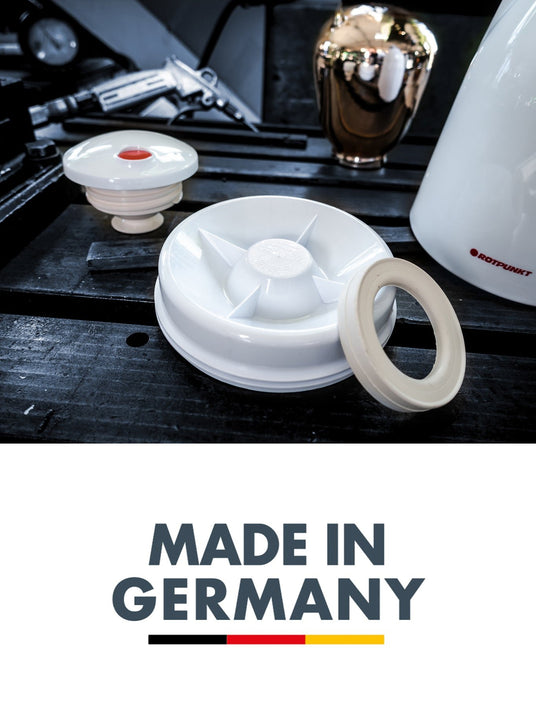 PRODUCTION
"Made in Germany" - seal of approval for commitment and quality

The trend among many companies to run after cheaper location costs - to Eastern Europe, India or China - was never an option for ROTPUNKT. The quality problems of many companies after relocating production abroad are already comment enough for us. Therefore, the manufacturing process of our products has been fully anchored in Germany since the foundation of the company. That is why ROTPUNKT is the first and so far the only manufacturer of vacuum jugs, insulated bottles and food containers to have its products certified by TÜV NORD CERT as an independent certification body in accordance with the "Made in Germany" certificate of origin.

The specialists from TÜV NORD examine not only the manufacturing and value-added depth in Germany, but also the social commitment, consumer-relevant product requirements, requirements for suppliers and for the procurement strategy, as well as requirements for the company's management.

In the future, ROTPUNKT will continue to undergo the annual monitoring audit by TÜV NORD CERT and fulfill the certification criteria out of corporate responsibility towards Germany as a business location. The certification according to DIN ISO 9001/2015 gives our customers, suppliers and partners the assurance that all processes, products and services meet the highest quality requirements.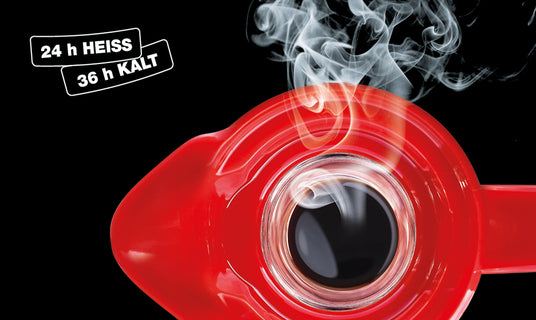 INSULATING POWER
Legendary insulating performance -
Keepshot for a long time, keeps cold even longer.

The heart of our jugs and bottles, the glass insert, is made of 100% hand-blown Rosalin glass and white glass and has always given them the legendary insulating properties for keeping hot and cold. In fact, all ROTPUNKT products also work the other way around and can keep cold drinks refreshingly cool for a long time.

Our insulated jugs and bottles achieve a reliable keep-warm function of over 24 hours and 36 hours of keep-cold when completely filled. Coffee or tea therefore hardly lose their aroma and can still be enjoyed hours later as if freshly brewed. Or why not try it out on hot summer days and fill your ROTPUNKT pot with cool juice or iced tea. You will be thrilled!

Our insulated food containers offer a 12-hour keep-warm function and 20-hour keep-cold function when completely filled and are ideally suited for hot meals on the go, for taking a large portion of ice from the ice cream parlor or for ice cubes in cocktails in the evening on the terrace.
SUSTAINABILITY
Sustainability through longevity

The legendary longevity of our products sustainably protects the environment and resources. The high quality, an extensive spare parts service and the 10-year warranty also ensure an extended product life.

The raw materials and colors used for the plastic parts are produced, processed and finally assembled in our factory in Germany. This allows us to keep transport distances short and produce significantly less CO2.

We do not produce B-goods. Plastic parts or glasses that are not flawless are directly sorted out by our strict quality checks, recycled and reintroduced into the production cycle. Thus, every customer receives first-class goods and unnecessary transport routes due to returns are avoided.
PRODUCT SAFETY
Quality you can taste.
- Quality thatreassures.

Our products come into contact with food and comply with all necessary regulations, EU directives and quality standards. Our vacuum jugs are certified and the best example of the market-renowned "Made in Germany" quality.

Highest quality requirements in all areas - at our company, at suppliers and at raw material suppliers - are the benchmark for our products. We regularly inspect our suppliers and raw materials, because your safety is close to our hearts. Our products are free of carcinogenic asbestos in the glass bulbs and free of naphthalene, phthalates and BPA in the plastic and rubber parts.

Play it safe and avoid poorly processed products whose materials give off odor or taste and pose a health risk - trust ROTPUNKT.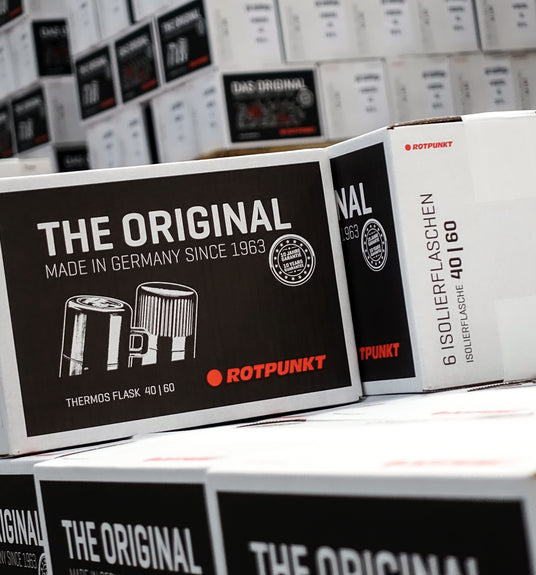 THE ORIGINAL
Only the original from ROTPUNKT - beware of plagiarism!

Caution is advised, because supposed bargains often have to be paid dearly. In many cases, the copied products are only slightly below the prices of our originals, this is to give the impression that they are original ROTPUNKT products.

While ROTPUNKT products are characterized by strict quality and safety standards, among other things, this is not the case with plagiarism. In addition to poor workmanship, sharp edges, poor insulating performance, a shorter service life, inferior materials and glass, as well as substances that are harmful to health, e.g. on outlets, many products can no longer be used after a short time and cannot be repaired due to a lack of spare parts.

In addition to aesthetic aspects, there are also safety-related factors, which is why counterfeits should not be used. The counterfeits usually come from China or bear the inscription "Made in Germany" - although the parts are manufactured in Asia - and resemble original ROTPUNKT products, particularly due to the red and similar color and logo design.

In addition, buyers are deceived by the use of counterfeit and copied packaging; in some cases, well-known model names are also copied.